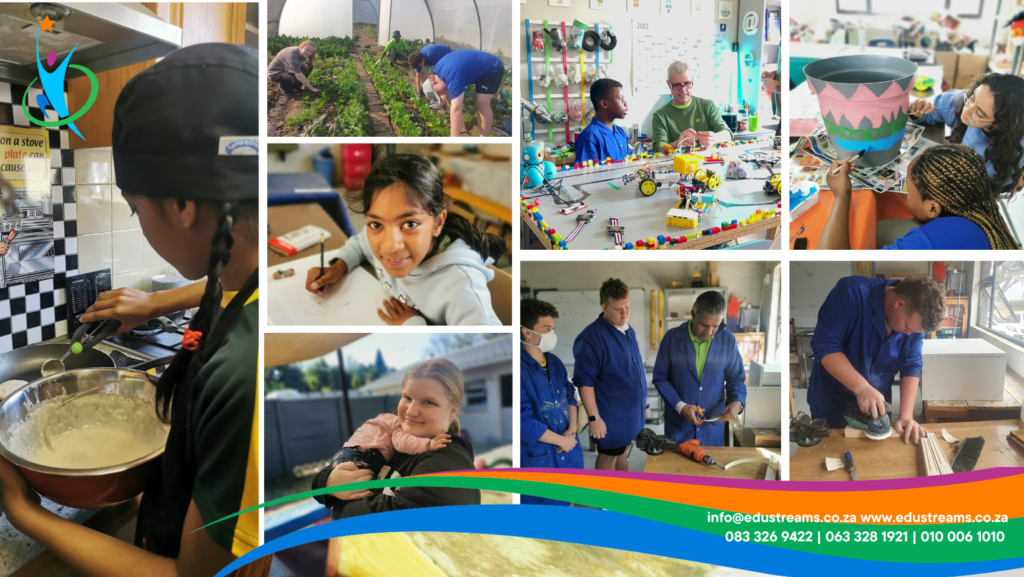 ---
EduStreams School
NPC– 2021/983680/08
EMIS NO- 700401267

---

---
Independent, co-educational multi-cultural high school

---
Students with learning challenges

---
Academic and vocational education

---
Prepares students for the world of work or further study
---

---
Small, nurturing classes with passionate teachers

---
Sports

---
Cultural activities

---
Based in the country setting of Kyalami AH
A Day in the Life of an EduStreams Student...
We offer our students a chance to enjoy learning again, in a meaningful and practical way. Education is not about one size fits all. All learners should have opportunities to realise their potential and not find themselves lost in the schooling system. This has become the EduStream's motto and philosophy of 'No Child Left Behind'.
Our Story

EduStreams School launched officially in January 2022. It is a registered school, as well as a Non-Profit Organisation, specialising in vocational training and students that learn differently.

The school was founded as a viable alternative for high school learners who cannot cope or develop in mainstream schooling. Wendy Roux, the Founder and Director of EduStreams, developed the school out of a need for her own child's special educational requirements. The vision was to create a school that would benefit not only her daughter but other students that experience schooling as a constant source of anxiety and frustration.

EduStreams provides a nurturing community for students that do not fit the traditional, academic box. Its unique vocational offering prepares teens for the world of work and life beyond the school gates. It empowers its students to persevere, to not be afraid to go out of their comfort zones and to feel self-worth and confidence again.
Besides academic and vocational learning, students are encouraged to participate in sports, culturals and outreach programmes, where they are taught to 'give back' to the communities around them.

In addition, they have opportunities to experience real work environments and workshops run by industry professionals. They participate in termly markets to experience the importance of entrepreneurship and the satisfaction of selling their own products made in their skills workshops.

What can you do to help?

EduStreams School is an NPO with PBO status. Sponsorships or donations are welcome to further develop the facilities and resources of the school.
---
---
Learn more about our vocational and academic streams that support your child's educational needs.